The Galaxy S IV needs a distinct feature, or else
Chase Bonar
- Member
@phonedog_chase
I've said it before, the hardware features in our smartphones are beginning to peak. Regardless of your smartphone preference, there is an uncountable array of hardware combinations that make it competitive against other devices. The sheer amount of cores, gigabits of RAM, and pixels in our 5-inch mobile computers are nearly uninintelligible if you don't follow mobile tech regularly.
While we have grown to expect manufacturers to up the dosage to satisfy our crave for better hardware, I'm beginning to think it's all in vain. The marketing of devices like the HTC One and LG Optimus G Pro are seemingly aimed at the software features and added value they bring.
Software features are those characteristics that make each device unique. Samsung has TouchWiz. HTC has Sense. LG and Motorola have their own Android overlay. Each manufacturer puts their newest devices on par with competitor's features, or risks straying from the pack seeking that competitive advantage. Differentiators like Samsung's S Pen set the Galaxy Note II apart from the crowd.
This is the amount of praise Samsung needs to receive at their Unpacked event in New York City when the Galaxy S IV is unveiled.
However, I'm highly entitled to the fact that the design language of the Samsung product line is on the verge of going stale. We have seen the home button for the past two iterations of the Galaxy S line. It's predictable. Look no further than the weeks leading up to the Galaxy Note 8.0's launch as compared to what the device looked like when unveiled, and you'll see that Samsung is getting predictable and unimaginative. The same curved edges and slick polycarbonate. The same home button and S Pen functionality.
But hardware is only half the battle. If there's anything Samsung's competitors have told us this early into 2013, it's that software features are true differentiators.
Samsung's TouchWiz truly set the bar for the additions and features we came to expect from a smartphone in 2012. Last year, the sheer amount of S features and sharing options of TouchWiz made it the Swiss Army Knife of the Android party. But it's a new year, and Samsung surely needs to bring something new to the table. TouchWiz's icons have stayed the same since the Galaxy S II. They're cartoony and remind me of something you'd see in an infant's crib.
The iPhone has looked the same for nearly five years and Apple loyalists are just beginning to notice it. I'd attribute that to Apple's unparalled marketing tactics. Basically, Apple had the resources to diverge the average consumer's attention for this long, and now they're being forced to address any shortcomings and concerns in iOS 7. Or else.
So, where does that leave Samsung? They have huge shoes to fill. There's the potential for the company to be in even more of a rut than Apple if they do not at least act like they're trying to do something different. I've been vocal about my comparison between Galaxy S devices in previous editorials, so I'll spare you the rant. My main concern for the company is this: consumers will notice if you rehash a device and say innovative and magical 60-times in the press event. I'm among the crowd that would rather see a unique feature fail, than be led to believe a rehashed utility will succeed (ex. Apple's Maps). In short, "new" sells.
If 2012 was the year where smartphones were able to take advantage of fluidity and function by upping the capabilities of hardware, then 2013 is the year of solid hardware and inventive software.
An argument could be made for each of the major contenders in the mobile spectrum who have showcased their hand of hardware and software features in 2013 so far.
Most recently we have seen new handsets from HTC and LG. Each have their fair share of new features for their respective devices. Admittedly, it's still early in the year to say they're successful, but it's safe to say that the software features from each of these manufacturers should not go unnoticed. It would be a mistake to understate the development put into them.
On the hardware front, HTC has proven with their devices that build quality is a paramount feature. The design language of the HTC One is incredibly fresh and unique. There is very little doubt that HTC's design team were not working up to this moment for a very long time. It feels like an eternity ago that HTC's CEO Peter Chou led his battle chant. I'm convinced they've done as much as they can to make the One a success.
Solid hardware is only half the battle, and in 2013 HTC needed to address the weight of their software, Sense. HTC is no stranger in the manufacturer overlay party. Sense was once at the top of all the mobile operating system skins. Boy, has that changed. Since Sense began to offer more features and additions to Android, it also became heavier and more intrusive. The result was a laggy and slow experience that was truly frustrating. Meanwhile, their customers noticed and flocked to the iPhone and Galaxy S devices.
Where Sense made little of its title, its fifth iteration makes something of its mockery.
Sense 5 is a completely redesigned version of HTC's oh-so-familiar UI. Among a lighter and less intrusive approach, Sense 5 offers BlinkFeed and Zoe. BlinkFeed is a news and social media aggregate. It can be tailored to the user's preferences and offers over 400 news and RSS reader sources. BlinkFeed has its own dedicated page on the left most screen of Sense 5 and is accessible at any time. A swipe to the right reveals a traditional and surprisingly stock approach to Android 4.1.2.
According to Drew Bamford, Director of User Experience at HTC, there were three key factors in developing the new Sense. The fifth Sense purposely avoids any new app or widget designs (despite the latter having been updated), widgets themselves, and home screen tailoring (driver behind BlinkFeed). The result was an overhaul rather than a polishing of the Sense experience.
To top it off, HTC Zoe is the last piece in Sense 5's push towards the simplistic approach harbored by Bamford. Zoe is short for Zoetrope, the rapid succession of static pictures to create the illusion of motion. When Zoe is activated, a short video is shot along with multiple images which are then stitched together and editable in the Sense Gallery. The idea is you're going to want to use Zoe to keep track of your life, all the while sharing with HTC Zoe Share.
Where HTC has chosen to bury Android deep beneath the Sense 5 UI, LG has taken a different approach. The LG Optimus G Pro has come very close to copying the design language of the Galaxy Note II. Yes, the home button is a different shape, the back of the device can be had in a reflective checkboard pattern reminiscient of the Google Nexus 4, and the screen takes up more space on the front of the device than the Note II. It seems LG has identified with Samsung's success and chosen to immitate their fellow countrymen.
From a hardware standpoint, LG at least tried to stray away from the design language of the outgoing model, the LG Optimus G. The screen nearly eliminates the bezel which will surely be noticed upon first using the device. The device is also around 15 grams lighter than the Galaxy Note II, the only other 5.5-inch competitor in the States. And the G Pro trades 90-degree angles on the Optimus G for "waterfall" edges which should make the device easier to hold.
For what it's worth, LG is at least trying to act like a contender in the immensely competitive smartphone/phablet arena. They're definitely out of their comfort zone. The similar design language as compared to the Galaxy Note II is flattering to Samsung, but I truly think they've created a more beautiful device.
As you know, hardware is only half of the equation. If the experience is not enjoyable, then LG wouldn't have a contender. The new LG UI running atop the Optimus G Pro is reminiscient of their competitor in the countryside, TouchWiz. LG's UI has a similar set of animations, as well as its own custom icons, too. What's new with the LG Optimus G Pro's UI is QSlide. QSlide is essentially a row of applications accessible by pulling down the notification curtain. These apps can be tapped, or dragged and placed on the home screen. The effect is an app on top of your smartphone's screen to the same effect of Samsung's TouchWiz Multi-Window multitasking screen. However, LG goes a step further by adding the option to adjust the window transparency. The end result is whatever is behind the app on your home screen can be seen through the app itself. It seems to be quite a neat feature that adds some value if you plan to use the G Pro as more than a phone.
Another feature in LG's new UI is the dual-camera mode which enables both cameras when recording video. The idea is to catch dual reactions of the event being recorded. The rear 13-megapixel camera functions as normal while the front-facing 2.1-megapixel shooter stares you down. The front-facer projects a small window in the corner of the lush 5.5-inch Full HD screen, but can be dragged and adjusted to as large or small as you so desire. It's a nice feature but it's utility seems rather limited and indeterminable until tested.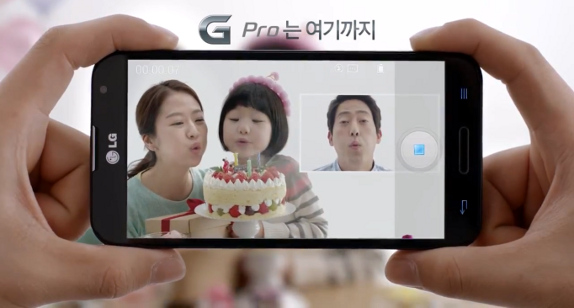 Lastly, LG has added the QButton on the side of the Optimus G Pro for quick access to QMemo. QMemo turns the full 5.5-inch display into a notepad for, you guessed it, notes. I foresee true practicality in the addition of this button on the side of the G Pro. It seems LG's QButton is that unique hardware feature that unleashes software potential, like Samsung's S Pen.
Looking into the future of software features, it's clear that Samsung must respond to their competitors. Like brother and sister, Samsung's Galaxy S-series will face HTC and LG's latest attempts at optimizing Android to its full potential. We know that TouchWiz is a useful addition to the Android operating system. Between it's Multi-View multitasking, AirView, and Buddy Photo Share, Samsung has squeezed a lot out of TouchWiz this past year.
Despite my belief that Samsung needs to update TouchWiz to give it a unique single feature that sets it apart from other flagships like the HTC One and LG Optimus G Pro, some could disagree. You're correct when you identify TouchWiz as one of the most user-friendly Android skins to the average consumer. It's also very practical in the additional functions like S Beam and Pop up Play that the UI offers. My main concern for Samsung will be the reception of the HTC One's features. There must be a unique response to BlinkFeed and Zoe to put Samsung's TouchWiz UI on-par with their main Android competitor. If not, Samsung runs the risk of losing out to valuable 2-year commitments when the HTC One lands stateside next month.
What it will boil down to is the reception of HTC's Sense 5 and LG's UI as compared to the new TouchWiz. If Samsung's UI were to stay the same, you could argue that it wouldn't be far behind in the features it offers. The main problem would be it isn't "new." Having said this, what's newer is not always better, and change for the sake of change needs to mean progress as well. I'm eager to see what Samsung can do to TouchWiz because software features are clearly the name of the game in mobile tech thus far.
Is there a single feature you'd like to see Samsung incorporate into the Galaxy S IV? What software feature of Samsung's competitors would you be most interested in seeing in the next Galaxy S? What do you think of HTC's Sense 5 and LG's UI? Let me know what you're thinking in the comments down below.
Images via Androidcentral, Phandroid, and Fonearena.
---
Don't forget to VOTE! Each week, PhoneDog Fans vote for their #1 smartphone in the Official Smartphone Rankings. Vote now and contribute to the industry's most relevant weekly ranking charts
---